"Your dog should cause you to smile
at least once a day!"
Dakota makes me smile TONS of times per day and I am sure that your dog(s) do too! We all love our dogs, right? When they are at their best and most obedient and loving, life couldn't be better, The doggy kisses, the look of love that emanates from their eyes, their cuddly natures. But, like people, sometimes those we love most behave in ways in which we think they have lost their minds . We often stop and wonder:
"Why does my dog do that?"
Today, I am happy to present  a book to you that just might give you some of the answers you are looking for!
I know, there are tons of articles, blogs and books that answer some of the same questions, but this book is written in a way that will enable you to get your answers without wading through a ton of scientific mumbo-jumbo.
Based on the questions expert dog trainer Tony Cruse has been asked in his hundreds of dog training consultations and on his many radio appearances, this practical book provides a host of answers & advice to help you understand your canine companion better.
When Dakota first became a part of our family in 2007, I had never had any pets other than cats, (other than when my family had a Boxer when I was a little girl. I was so young, that nothing that my parents did to work on her exuberant behavior was absorbed into my undeveloped pea brain). Even as an adult, not being as dog attuned as many of my readers, there were things that Dakota did (and still does), that left me bewildered and baffled.
From Tony Cruse:
"I wanted to create a definitive book about those confusing dog behaviours that was simple, clear-cut and entertaining alongside its value as a reference text, I quickly learned that most owners have hundreds of questions about why their dogs do certain things, so I decided to compile the most common into something I could share with the world."
"Dogs are much more complex, thoughtful and compassionate creatures than most think, and I really feel that this book showcases the depth of their personalities. I hope it helps owners understand, interact with and ultimately grow closer to their dogs – while giving each animal an opportunity to finally have his or her voice heard!"
101 Doggy Dilemmas is arranged by easy-to-find topics. You will discover the reasons behind many of your dogs behaviors that make you want to tear your hair out. Some of the behaviors that I needed answers to and tips to prevent, (and found!) were:
Why does my dog bark at the postman?
Why does my dog steal shoes? 
Why does my dog pull on the lead?
Why does my dog chase cars?
Why does my dog howl when I'm not there?
(Note about the  howling question above. Dakota does not do this, but there were two other dogs who used to live in our building that did this for HOURS on end. It became extremely annoying and troublesome.)
Why does my dog lick me all the time? This one is a personal fave. A self-professed "cat person", (ok folks,  I LOVE my dog and other dogs, but I will confess, sometimes they are just too "in my face" for me. It Doesn't make me love my dog any less, I'm just keeping it real here!) By reading the "why" I learned that:
Our soft skin has a salty taste that our dogs may like. It also usually gets a reaction which maybe as subtle as a laugh. This reaction encourages the licking next time. And so the dog's routine greeting becomes a happy licking-fest. It is also thought that licking is a pacifying action, often seen when puppies lick their mothers' mouths. 
This was something I had never known! In reference to this question, and all 100 other questions in 101 Doggy Dilemmas, you will have an explanation, followed by Tony's "Quick Tips" to help change/re-direct the unwanted behavior. All of the tips are humane, loving and caring.
So what is the solution to the above behavior? You will have to read the book to find out.
A sampling of other  questions that are included:
Why does my dog cower from people trying to pet him?
Why does my dog bark at other dogs?
Why does my dog follow me everywhere? 
The last question I am going to post will be of interest to many readers who blog or need to photograph their dogs for other reasons: Why does my dog not like his photograph taken?  I often read the blogs of many bloggers whom I admire and I marvel at the incredible photos that are consistently taken that show posing dogs, dogs in different scenarios with props, training photos, etc., and I think, "Why does this not work for me?" Well, in reference to myself there are TONS of reasons as to why, but in 101 Doggy Dilemmas, Tony Cruse offered some logical tips that just might change things around! I know many of you already know these tips, but for those who are still baffled about how to get your dog to cooperate during photo sessions, there IS hope!
I give 101 Doggy Dilemmas a resounding 4-paws and 2-human hands raised high with a few barks thrown in for good measure!
AVAILABLE ON AMAZON
Visit the official website for 101 Doggy Dilemmas
GIVE-AWAY!!!!  TWO OF MY READERS WHO ARE 18 AND OVER AND WHO RESIDE ANYWHERE IN THE USA AND EUROPE!  will each win a copy of 101 Doggy Dilemmas!! (An approx $12 value).  Entering is easy-peasy!!! Just enter on the rafflecopter below and be sure to complete the MANDATORY requirement! Good luck!!
ABOUT THE AUTHOR: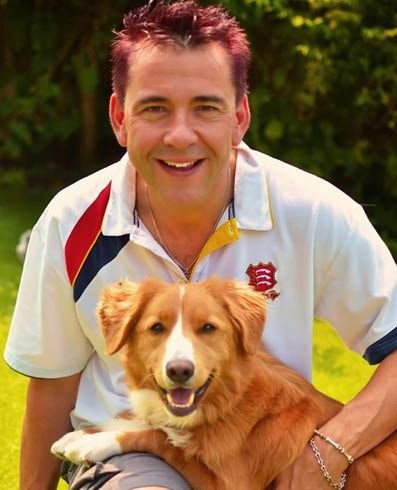 Tony is full-time dog trainer who also advises on a variety of canine behaviours. He writes for various magazines and appears frequently on a number of radio stations. He writes in a simple and clear style which appeals to pet dog owners in these busy times. Visit Tony's website here.
In full disclosure: I was not compensated for this review/give-away. I was sent a copy of 101 Doggy Dilemmas in exchange for my always honest review.